Since 1953, America's Premier Intercollegiate Academic Competition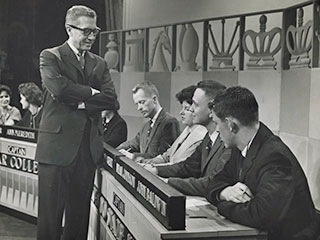 The Ludden Era
The erudite Allen Ludden established the style that defined TV's toughest quiz.
In 1953, College Bowl sprang into existence as a nationally broadcast radio competition. In its first broadcast match, when the game was still called College Quiz Bowl, Northwestern beat Columbia 135-60. The birth of College Bowl proved intercollegiate question and answer competition could be a hit for a national audience. The Varsity Sport of the Mind, as it is known, quickly became an indelible part of the American landscape.
The simple Tossup question – Bonus question format, which has become so familiar to audiences around the world, was a natural.  By 1959, College Bowl moved to national television on CBS and became a fixture of weekend afternoons as GE College Bowl. GE College Bowl ran on CBS from 1959-63 and NBC from 1964-70. During that time it won an Emmy and Peabody Award. It was also read into the Congressional Record. As its place in American television culture grew, it was voted by TV Guide as one of the three greatest game shows of all time.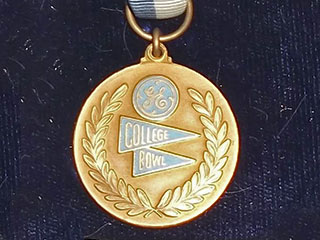 A True Original
College Bowl has spawned hundreds of versions for high school and fans of all ages.
Just like other sports, the College Bowl format proved so simple and engaging that high school versions (of which over 100 were licensed by College Bowl) proliferated. There have also been foreign versions, versions played exclusively by alumni, athletes, church groups, the armed forces, corporate executives and more. Many programs are still produced or licensed by the College Bowl Company.
College Bowl has spawned leagues and competitions across America and internationally at every school level. Untold millions have played in one version or another. 
College Bowl's history and longevity are a testimony to the positive influence it has had on universities and the community at large. College Bowl is a tremendous marketing tool and a great way to demonstrate to the public your support of education.