A Legacy of Honors and Achievement

College Bowl has been awarded many major educational, newspaper and television awards
College Bowl Awards and Recognition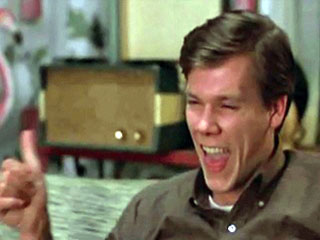 Hollywood Highlights
Kevin Bacon played Timothy Fenwick Jr., an expert at "College Bowl" in Barry Levinson's "Diner."
In its 17 seasons on the air and since then, 
College Bowl
 has received widespread acclaim from Presidents, Congress, state and local officials schools, churches, the press and the public. 
College Bowl
 has been awarded many major educational, newspaper and television awards.  It's been awarded an Emmy and the coveted Peabody Award for outstanding achievement in entertainment and education. 
College Bowl
 was cited by Congress and entered into the Congressional Record as "entertainment at its best." It has received citations from the national PTA and many other organizations.
College Bowl's presence in popular culture has also been memorialized on the large and small screens. Ed Asner's Lou Grant references College Bowl on "The Mary Tyler Moore Show." In "Diner," Kevin Bacon's character is seen playing along with the program from the comfort of his couch. Later, the plot of 2006's "Starter for 10" is centered around James McAvoy competing in the British version of the show, "University Challenge."
Congressional Record
CONGRESSIONAL RECORD - VOLUME 113 - 1967
Television Academy
OUTSTANDING PROGRAM ACHIEVEMENT IN THE FIELD OF PANEL - 1963
Peabody Awards
TELEVISION YOUTH PROGRAMS - 1960