History of College Bowl and Its Formats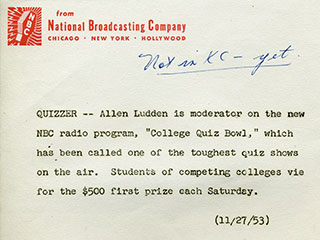 NBC Press Release
This release describes the inaugural season of College Quiz Bowl in 1953
In 1953, College Bowl sprang into existence as a nationally broadcast radio competition. In its first broadcast match, when the game was still called College Quiz Bowl, Northwestern beat Columbia 135-60. The birth of College Bowl proved intercollegiate question and answer competition could be a hit for a national audience. The Varsity Sport of the Mind, as it is known, quickly became an indelible part of the American landscape.
The simple Tossup question – Bonus question format, which has become so familiar to audiences around the world, was a natural.  By 1959, College Bowl moved to national television on CBS and became a fixture of weekend afternoons as GE College Bowl. GE College Bowl ran on CBS from 1959-63 and NBC from 1964-70. During that time it won an Emmy and Peabody Award. It was also read into the Congressional Record. As its place in American television culture grew, it was voted by TV Guide as one of the three greatest game shows of all time.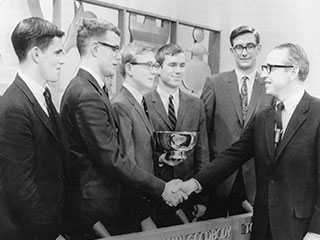 Robert Earle
Earle succeeded Allen Ludden, bringing a familiar, but unique take on hosting duties.
Famed television personality
Allen Ludden
was the original host of GE College Bowl. He hosted for four years. When he moved onto Password, he was replaced by
Robert Earle
. In later special editions of College Bowl it was hosted by, in order, TV stars
Art Fleming
(of Jeopardy! fame),
Pat Sajak
(Wheel of Fortune) and
Dick Cavett
. 
College Bowl was created by Don Reid. Since 1977, the College Bowl Company has been run by his son, TV producer Richard Reid. All versions of our program are produced either by the College Bowl Company or Richard Reid Productions.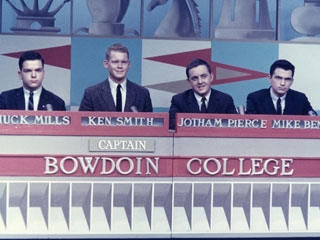 Now in Color!
College Bowl transitioned into Technicolor along with the rest of the TV landscape.
Just like other sports, the College Bowl format proved so simple and engaging that high school versions (of which over 100 were licensed by College Bowl) proliferated. There have also been foreign versions, versions played exclusively by alumni, athletes, church groups, the armed forces, corporate executives and more. Many programs are still produced or licensed by the College Bowl Company. College Bowl has spawned leagues and competitions across America and internationally at every school level. Untold millions have played in one version or another.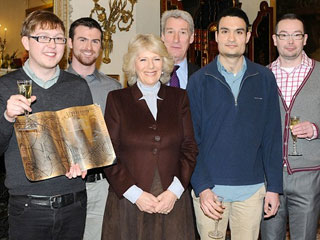 University Challenge
For 50 years, University Challenge has captivated audiences across "the Pond."
College Bowl licenses
University Challenge
in the United Kingdom. University Challenge is one of the most famous and popular programs in British television history. The program is produced by ITV for BBC. Since 1994 it has been a fixture on BBC2, currently airing every Monday at 8:30 PM. It is hosted by leading British journalist and commentator, Jeremy Paxman. Each year features a school championship followed by a series of specials entitled University Challenge – The Professionals in which different professions compete against each other. There are also various seasonal specials. From 1962-1987, University Challenge aired in prime time on ITV (Granada Television), hosted by the legendary Bamber Gascoine. University Challenge also led esteemed author David Nicholls to write a coming-of-age book called
Starter for 10
. The popular phrase is synonymous with the program and refers to the British version of the tossup question, played for 10 points. The book led to a popular movie of the same name which still airs on TV around the world.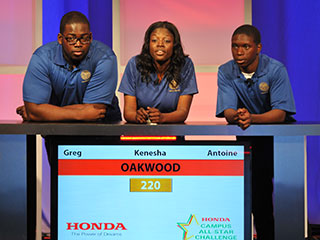 HCASC for HBCUs
Since 1989, Honda Campus All-Star Challenge has highlighted the skills of students at Historically Black Colleges and Universities (HBCUs) .
In 1989, American Honda and the College Bowl Company teamed up to create
Honda Campus All-Star Challenge (HCASC)
in the United States. The birth of HCASC marked the creation of varsity scholar teams and official academic competition between Historically Black Colleges and Universities (HBCUs).
Since 1977, the College Bowl Company has maintained a strong relationship with the Association of College Unions International (ACUI). The college union is the center of student life at hundreds of universities across America and abroad. From 1977-2008, College Bowl ran an annual, live national championship tournament. ACUI was integral to the program's organization. ACUI is an integral part of Honda Campus All-Star Challenge.
New Zealand has been licensed for 31 episodes of University Challenge, bringing the program back to screens "down under." Negotiations to expand into other parts of the world are ongoing. College Bowl's history and longevity are a testimony to the positive influence it has had on universities and the community at large. College Bowl is a tremendous marketing tool and a great way to demonstrate to the public your support of education.